MENU

HOME
CREEPERS
T-SHIRTS
PANTS
HATS/CAPS
BLANKETS
BIBS
CAMO
SIZE CHART
CONTACT US


Call Us Toll Free:
(800) 707-9692

International:
001-951-603-0921

WHOLESALE BLANK BABY T-SHIRTS
Home > T-Shirts > Long Sleeve T-Shirts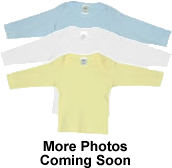 Item# 050
Description: Long sleeve lap t-shirt.
Qty: 6 per pack.
Colors: White, pink, blue, yellow, black (new!)
Size: NB, S, M, L
No Quantity Minimums
Similar Products:
---
Wholesale Baby Clothes is a premier site of Etronity, Inc. We offer quality baby and preemie clothing for distributors and retailers at wholesale prices. There is no minimum to buy. Register for free and have one of our account representatives contact you to discuss your needs. You may contact us directly at (800) 707-9692.
Also available:
Boys Pastel Short Sleeve Variety Lap Shirt
Girls Pastel Short Sleeve Variety Lap Shirt
White Short Sleeve Lap T-Shirt
Boys Colors Long Sleeve Shirt
Girls Colors Long Sleeve Variety T-Shirt
White Long Sleeve Lap T-Shirt
Boys Long Sleeve Cardigan
White Side Snap Short Sleeve Shirt
Other Links of Interest: